AIG's participation in "The Male Leaders Coalition for Empowerment of Women"
James Nash, President and CEO of AIG Japan Holdings K.K., is a member of the "The Male Leaders Coalition for Empowerment of Women," a coalition formed in 2014 and supported by the Cabinet Office of Japan. AIG Japan has been an active participant in this initiative since its establishment and we continue to broaden and deepen our network with male leaders from various industries across the country to accelerate our efforts in the areas of gender equality and women's advancement.
The Male Leaders Coalition for Empowerment of Women is a collective of corporate executives promoting initiatives in line with the Declaration of Action to promote gender equality and the advancement of women, and to accelerate the initiatives of companies by building networks among participants to share initiatives, issues, and challenges. The coalition also contributes to building social momentum for gender equality and women's activities through opportunities for participants to proactively communicate their thoughts and initiatives to the public. At present, around 260 people, including business executives, governors and mayors, are members of the coalition. For more information, please refer to the following URL or QR code.
At AIG, we believe that embracing diversity, equity and inclusion — whether it's in terms of gender, nationality, disability, religion, age, sexual orientation, or family structure , and the diverse experience those differences bring — is essential not only to creating a positive working environment for our employees, but also in helping us stay connected to our customers, gain a competitive edge, and contribute to the growth and diversity of the communities in which we operate.
In this context, we have identified the active participation of women, who make up more than half of our workforce, as a key focus for future growth, and we are taking a number of steps to promote this.
Based on our ongoing participation in The Male Leaders Coalition for Empowerment of Women , AIG will continue to promote initiatives aimed at creating a society in which women, both inside and outside of the company, can play an active role.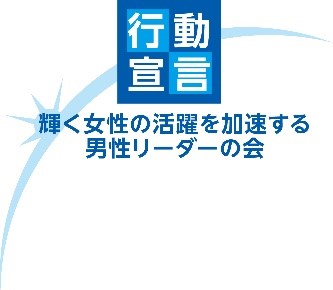 Declaration on Action by "A Group of Male Leaders Who Will Create a Society in Which Women Shine" homepage