At AIG Japan, we are committed to building an inclusive culture and creating a workplace where everyone can pursue and fulfil their goals. Creating positive change begins from within, and AIG Japan is focused on continuing to develop a vibrant workplace and community for everyone to reach their full potential.
Diversity, Equity and Inclusion (DEI) is at the heart of Life at AIG. AIG Japan promotes a workplace that encourages each employee to value what makes them unique and to respect differences between one another. For more information on DEI initiatives, please visit the dedicated Diversity, Equity and Inclusion (DEI) Page.
The Best Place to Work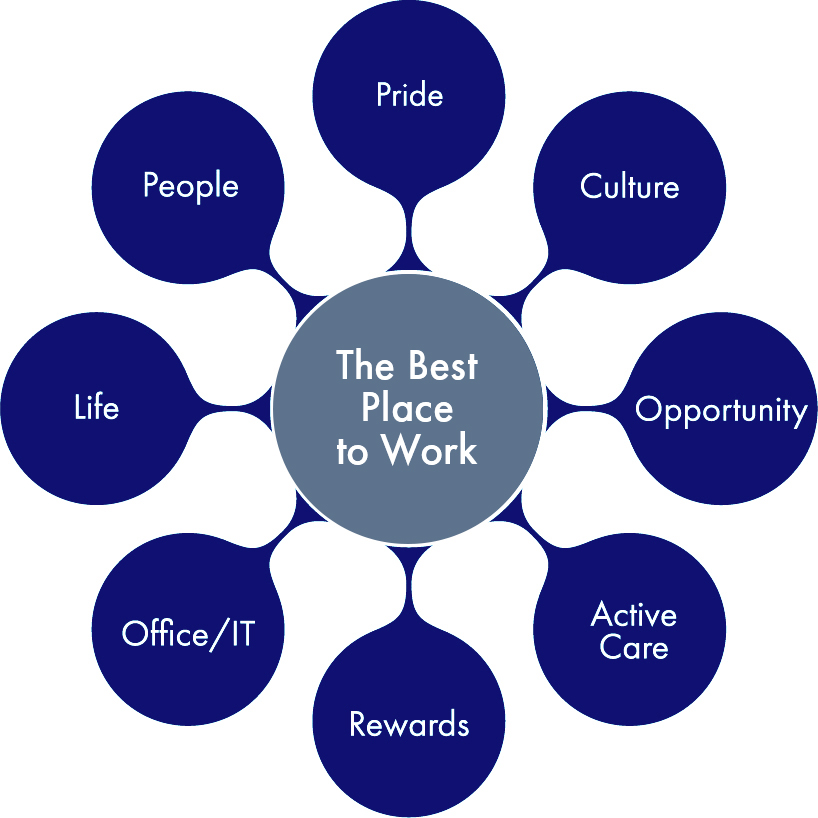 AIG Japan is committed to ensuring a work style that creates a positive difference, where we are all proactive in our thinking, our decision-making, and our actions. In Japan, AIG has implemented the Best Place to Work initiatives to ensure employees work in a vibrant, fulfilling, engaging, and rewarding working environment. The Best Place to Work initiatives were developed with a broad perspective considering factors such as health, family life, community, career progression and professional development.
The Best Place to Work covers the following eight themes.
Pride:

Inspire employees to be proud to work for AIG

Culture:

A One AIG culture based on respect, inclusivity, and transparency

Opportunity:

Developing each employee's career by owning your career development

ACTIVE CARE:

Embodying Active Care to ensure everyone maintains physical and mental wellbeing

Rewards:

Encouraging and rewarding employees based on transparency and performance management

Office / IT :

A positive work environment to encourage collaboration and innovation

Life:

Flexible workstyle to create a positive work-life balance

People:

An environment based on mutual respect, trust, and recognition
The Best Place to Work initiatives include:
Support for balancing work and childcare
Welfare programmes for those involved in nursing care
Flexible workstyle such as remote work and flex time without core time
Provision of information in preparation for retirement
Provision of information to reduce concerns in the event of illness
Healthcare efforts beyond regular health check-ups including subsidies for smoking cessation outpatient clinics, walking events, health literacy improvement, etc.
Work@Homebase
AIG Japan encourages all employees to "Own Your Career". Based on this concept, AIG Japan has flexible work styles for all employees – the Work@Homebase system embodies this approach. The Work@Homebase system includes registering a preferred working area that is designated as a homebase – this system removes involuntary relocation at the company's request. Each employee is empowered to develop their own career path without the concern of being relocated. Registration of preferred homebase locations can also be adjusted based on various personal circumstances and life stages.
Health and Wellness
AIG Japan believes that health and wellness is crucial to maintaining and strengthening motivation and performance in the workplace. As a risk management company, we also ensure our employees are risk-aware and health conscious in their own daily lives to lead a balanced, healthy and vibrant life that allows each individual to bring the best version of themselves to work and enjoy life to its fullest. To ensure our employees achieve this, AIG Japan is committed to creating a work environment where everyone can work in a healthy and positive way, where we strive to increase corporate value and we actively promote health management through the concerted efforts of each individual. AIG Japan also works closely with the AIG Health Insurance Association on efforts including holding various events and promoting the improvement of health literacy, including mental health awareness, efforts to reduce overtime work and encouraging employees to take paid leave.