Health and Productivity Management Declaration
At AIG Japan we ensure that employees have the best framework in place for managing their health and wellness. We are committed to promoting health and productivity management and to creating an environment where each individual can bring the best version of themselves to work and enjoy life to its fullest. Supporting our employees to lead a balanced, healthy and vibrant life, helps us to support all our stakeholders, including our customers and the communities we live and work in, as we tackle the complex challenges around us and build a bright future together.
We will continue to embrace a holistic approach where all our stakeholders work together to continue on our journey of being the best place to work.
AIG Japan Holdings KK
President and CEO
James Nash
Structure to Promote Health and Productivity Management
At AIG Japan, senior management acts as the health management representative to lead and promote health and productivity management. AIG Japan's Human Resources Department collaborates with AIG's Health Consulting Office, the Health Committee, the AIG Labor Union and the AIG Health Insurance Association to operate a Health and Productivity Management Committee to support the wellness of each employee and their families. 
Initiatives
AIG Japan aims to create:
A workplace which supports positive physical and mental wellbeing

Increasing mental health awareness
Promoting regular medical examinations and follow ups

A workplace that supports anyone with a medical condition as they return to work

Supporting employees when they return to the workplace after medical leave
Supporting employees to as they balance work and medical treatment

An environment where employees and their family members can actively participate in activities to improve their physical and mental wellbeing
Health Management Metrics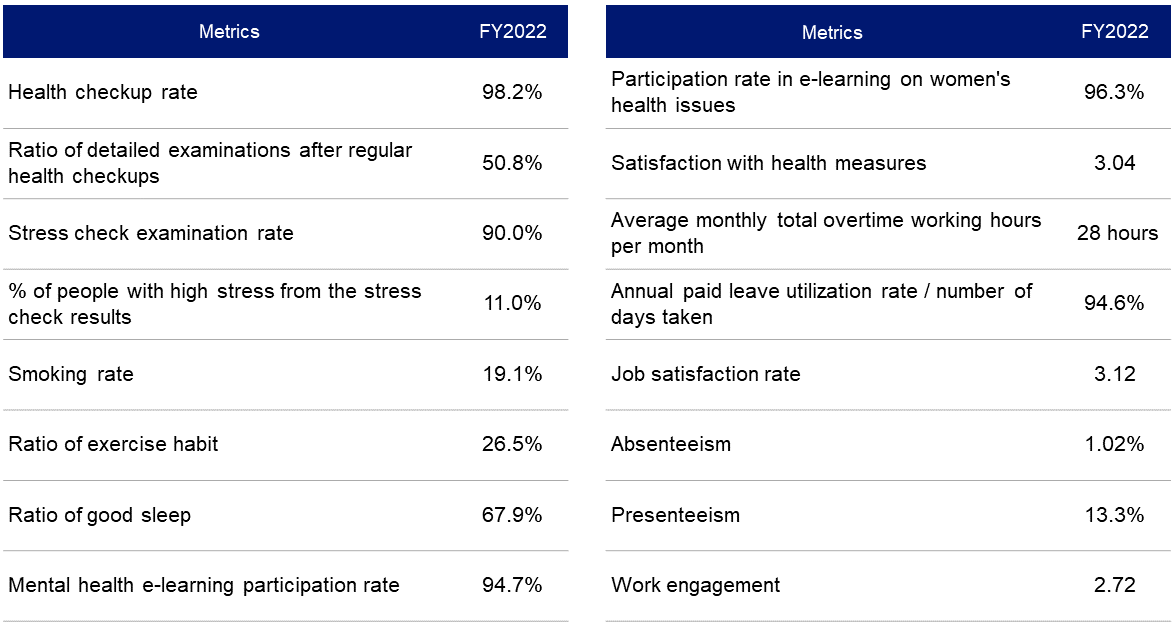 As a result of the various ongoing health and wellness initiatives, AIG Japan group companies have been recognized for the sixth consecutive year by Japan's Ministry of Economy, Trade and Industry for the Health and Productivity Management Certification 2023.
For more information, please visit AIG Japan's Awards and Recognition Page.
Health and Productivity Management Strategy Map